• 그러나 올해 8 월 초에 FCC는 증거를 검토하고 휴대 전화 전자파에 대한 현재의 안전 제한이 양호하고 변경할 필요가 없음을 발견했다고 발표했습니다.
• 휴대폰 안전 모니터링에 관해 FCC와 협력한 식품의 약국 (Food and Drug Administration)은 이 결정에 동의했습니다.
• 삼성과 같은 일부 회사는 합법적으로 허용되는 거리인 피부에서 10 ~ 15mm 떨어진 거리에서만 휴대 전화를 테스트하지만 사람들이 휴대 전화를 벨트 클립에 고정한 날로 거슬러 올라갑니다 (Apple 및 기타 회사 포함) 5 밀리미터 거리에서 테스트
• iPhone의 네 가지 모델이 포함된 전화는 공인 통신 실험실로 보내졌으며, 연방 통신위원회 (Federal Communications Commission)에서 정한 지침에 따라 테스트를 수행했습니다.
• Tribune는 또한 3 개의 완전히 새로운 iPhone 7을 풀 파워로 테스트하고 이러한 전화도 노출 한도를 초과 측정했습니다.
Some Cellphones Reportedly Exceed FCC Radiation Limits—but Don't Flip Out Just Yet
[gizmodo.com]
We tested popular cellphones for radiofrequency radiation. Now the FCC is investigating.
[www.chicagotribune.com]
iPhone 7 radiation safety tests find device over legal limit
[9to5mac.com]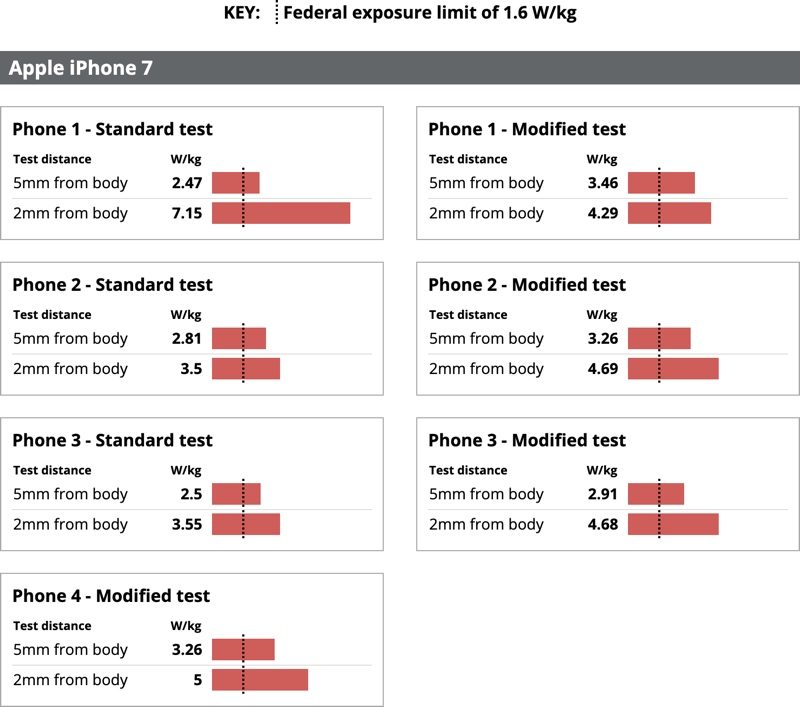 Law Firm Capitalizes on Reports Apple's iPhones Exceeded Radiofrequency Radiation Safety Levels in Some Tests
[www.macrumors.com]
"Radiofrequency radiation exposure from the iPhone 7 — one of the most popular smartphones ever sold — measured over the legal safety limit and more than double what Apple reported to federal regulators from its own testing." https://t.co/ldTgnFOL1L

— Robert Loerzel (@robertloerzel) August 21, 2019
"Radiofrequency radiation exposure from the iPhone 7 — one of the most popular smartphones ever sold — measured over the legal safety limit and more than double what Apple reported to federal regulators from its own testing." https://t.co/ZC4nd1UDmM

— David Mack (@davidmackau) August 22, 2019
The @chicagotribune found an iPhone 7 measured over the legal safety limit for radiation exposure.

This is a difficult topic to write about, but @SamRoe is transparent and thorough in his investigation.

Tech reporting could use more of this: https://t.co/yKhVCgCxvh

— Geoffrey A. Fowler (@geoffreyfowler) August 22, 2019
An independent lab.
An independent newspaper.
We worked together to test popular cellphones for radiofrequency radiation.
Now the FCC will do the same.
https://t.co/hiQ7MZoiGQ

— George W. Papajohn (@GeorgeWPapajohn) August 21, 2019
Chicago Tribune investigation finds radiation exposure from Apple and Samsung phones way over the legal limit. "Among the advice: Don't carry cellphones in pockets." https://t.co/zBXLJkwP6P

— Jon Passantino (@passantino) August 21, 2019
In your daily dose of dystopia, phone companies don't test how much radiation your phone gives you from inside your pocket: https://t.co/Xr70J6QAwf

— Jacob Dubé (@Ewiththeaccent) August 22, 2019
This test, paid by the Tribune and conducted according to federal guidelines at an accredited lab, found that radiofrequency radiation exposure from the iPhone 7 measured over the legal safety limit and more than 2x what Apple reported to fed regulators.https://t.co/A5ZYqlxfxf

— Tom Namako (@TomNamako) August 22, 2019
The FCC will re-test some Apple and Samsung smartphones after a Chicago Tribune test found the phones exceeded allowed radiation limits https://t.co/08QgTkuaJ2

— Matthew Keys (@MatthewKeysLive) August 22, 2019
Are cellphone regs outdated, too lax for safety? We tested popular cellphones for radiofrequency radiation. Now the FCC is investigating. https://t.co/2bneAYH4TC

— Ray Long (@RayLong) August 23, 2019
"Radiofrequency radiation exposure from the iPhone 7 — one of the most popular smartphones ever sold — measured over the legal safety limit and more than double what Apple reported to federal regulators from its own testing" Chicago Tribune https://t.co/3bMRdiiLLJ

— Oleg A. Grigoriev (@O_Grigoriev) August 23, 2019
Radiofrequency radiation exposure from the iPhone 7 measured over the legal safety limit and more than double what Apple reported to federal regulators from its own testing.
https://t.co/xFSms4DZaa

— ???????? (@DemocracyJourno) August 21, 2019