• Corellium은 ARM에서 iOS, Android 및 Linux 가상화를 제공하는 "최초이자 유일한 플랫폼"이라고 설명합니다.
• 애플은 "선의의 보안 연구 영역에 머무르는 한 플랫폼에서 보안 취약점을 발견하려는 노력을 강력히 지지한다"고 지적했습니다.
• 애플은 코렐리엄에 대한 소송을 제기했으며, 소프트웨어 회사는 보안 결함을 발견하는 데 도움이 된다는 이유로 iOS의 가상 사본을 불법적으로 판매하고 있다고 비난했습니다.
• Corellium은 Apple의 라이센스나 허가없이 그렇게합니다.
Apple sues Corellium for replicating iOS and apps
[www.loopinsight.com]
Apple sues mobile device virtualization company Corellium for selling iOS clones
[www.techspot.com]
Apple accuses software company Corellium of selling replicas of iOS in new lawsuit
[www.imore.com]
Apple Files Lawsuit Against Corellium For iOS Emulation
[apple.slashdot.org]
Daily Crunch: Cloudflare is going public
[techcrunch.com]
Are you a robot?
[www.bloomberg.com]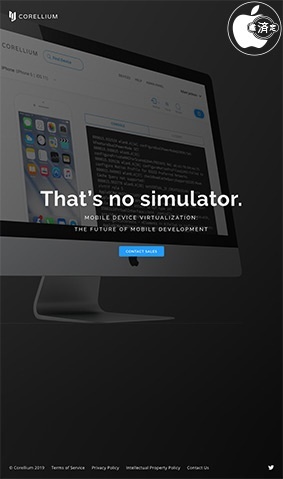 Apple、ソフトウェア仮想化会社Corelliumを著作権侵害で訴える | NEWS | Macお宝鑑定団 blog(羅針盤)
[www.macotakara.jp]
[www.courtlistener.com]
Apple sues virtualization software company Corellium
[macdailynews.com]
애플, 코렐리엄 고소
• 애플은 이 소송에서 코렐리엄이 애플 기기를 완벽하게 복제 할 수 있는 제품을 판매 할 근거가 없다고 말했습니다.
• "취약점 해결을 지원하는 것과는 달리 Corellium은 사용자에게 공개 시장에서 발견된 정보를 최고 입찰자에게 판매할 것을 권장하고 있습니다"라고 Apple는 주장하고 있습니다.
Apple is suing Corellium
[techcrunch.com]
Editorial: Apple's use of 'iPhone Pro' is a marketing label, not a personal description
[appleinsider.com]
Apple sues company that sells "perfect replicas" of iOS without a license
[arstechnica.com]
Apple, iOS 에뮬레이션의 Corellium에 대한 소송 제기 https://t.co/ZZov7VdGtQ
• 애플은 코렐리엄에 대한 소송을 제기했으며, 소프트웨어 회사는 보안 결함을 발견하는 데 도움이 된다는 이유로 iOS의 가상 사본을 불법적으로 판매하고 있다고 비난했습니다.

— editoy (@editoy) August 17, 2019
Apple, iOS 에뮬레이션의 Corellium에 대한 소송 제기 https://t.co/ZZov7VdGtQ
• 애플은 코렐리엄에 대한 소송을 제기했으며, 소프트웨어 회사는 보안 결함을 발견하는 데 도움이 된다는 이유로 iOS의 가상 사본을 불법적으로 판매하고 있다고 비난했습니다.

— editoy (@editoy) August 17, 2019