• 애플 카드 고객 계약서에 따르면 이 카드는 크립토 통화 (cryptocurrencies), 카지노 게임 칩, 경마장 내기, 복권 등과 같은 현금 서비스나 현금 등가물을 구매할 때 사용할 수 없다고 전했습니다.
• Apple Card는 가장 최근 분기에 12 % 감소한 오랜 iPhone 판매에 크게 의존하고 있던 것에서, 서비스 수익에서 더 많은 수익을 이끌어 내기위한 Apple 의한 광범위한 노력의 일환입니다.
• 골드만 삭스의 경우, 애플과의 제휴는 오랜 투자 은행의 소비자 지향적 사업을 구축하려는 노력의 일환입니다.
• 신용 카드를 통한 암호화 통화 구매를 허용하기에는 너무 위험합니다. Goldman Sachs는 디지털 자산과 관련된 프로젝트를 진행하고 있지만 사용자가 신용 카드로 암호화 통화를 구매하는 것을 금지하고 있는 것은 당연합니다.
• 하드웨어 또는 소프트웨어 제어를 해제하는 등 (예를 들어 '탈옥'이라는 것 등) 대상 장치에 무단 변경 한 경우 귀하의 적격 장치는 귀하의 계정에 더 이상 액세스하거나 관리 할 수 없습니다.
Apple Card app coming to iPad as Apple drops Barclays Card rewards ahead of Apple Card launch
[macdailynews.com]
Read the fine print of Apple Card's customer agreement
[appleinsider.com]
Apple Card is even better than we realized
[www.cultofmac.com]
Apple Card will not allow purchase of cryptocurrencies
[www.reuters.com]
Bitcoin and crypto purchases will be prohibited with Apple's new credit card
[cryptoslate.com]
Goldman Sachs-Backed Apple Card Will Not Support Cryptocurrency Purchases
[bitcoinexchangeguide.com]
Apple Card Customer Agreement Forbids Jailbreaking, Buying Cryptocurrencies
[www.iphonehacks.com]
Are you a robot?
[www.bloomberg.com]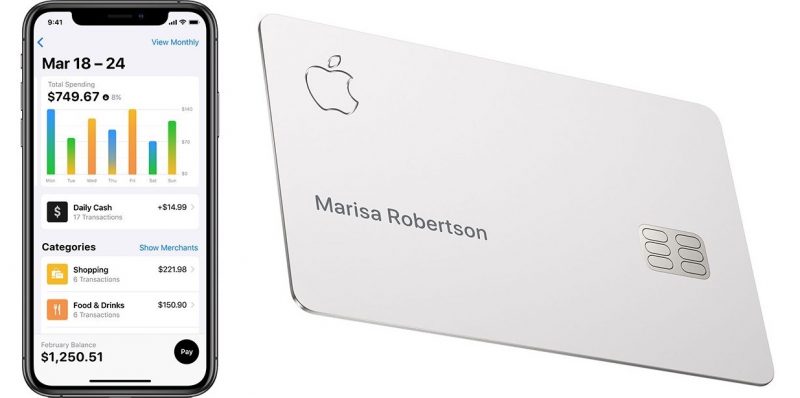 Goldman Sachs Makes Apple Card Customer Agreement Available Ahead of Upcoming Apple Card Launch
[www.macrumors.com]
Apple Card restrictions include no jailbreaking or cryptocurrency purchases
[www.theverge.com]