• 세계 은행에 따르면 2016 년에 약 2 억 4 천 2 백만 톤의 플라스틱 폐기물이 생산되었으며 이 폐기물은 2050 년에 34 억 톤으로 증가할 것으로 예상됩니다. 세계 경제 포럼 (World Economic Forum)은 매년 최소 800 만 톤의 플라스틱이 바다에 배출되며, 전 세계적으로 플라스틱 포장재의 14 % 만 재활용을 위해 수집된 것으로 나타났습니다.
• 플라스틱 쓰레기로부터 바다를 구하기 위한 싸움은 호텔 투숙객들이 수하물에 담아 두는 것을 좋아하는 샴푸 및 기타 세면 용품 미니 병의 종말을 의미할 수 있습니다.
• 그리고 2050 년까지 바다에 물고기보다 더 많은 플라스틱이 있을 수 있다는 놀라운 예측 가운데서 플라스틱 쓰레기 문제에 대한 대중의 인식이 끓어 오르고 있다는 것은 거의 의심의 여지가 없습니다.
• 주목할만한 캠페인에는 영국의 스카이 뉴스 (Sky News)가 포함되어있습니다. 이 신문은 고래가 죽은 후에 그 생물이 열렸을 때 비닐 봉투로 부풀어 오른 것을 보여 주었습니다.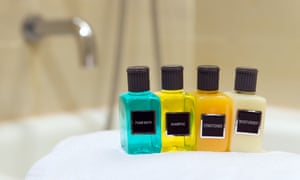 Hotels are finally banning mini plastic toiletries - here are the best alternatives
[www.theguardian.com]
Holiday Inn owner Intercontinental hotels is ditching small plastic toiletries
[edition.cnn.com]
Are Mini Shampoo Bottles the New Plastic Straw?
[www.nytimes.com]
Holiday Inn, InterContinental hotels ditch mini shampoos to cut waste
[www.usatoday.com]
Holiday Inn owner to ditch mini shampoos to save seas
[www.apnews.com]
It's not often I get to share something from my wife's world. Good work to the whole team at ⁦@IHGCorporate⁩.

This a step in the right direction.

Are Mini Shampoo Bottles the New Plastic Straw? - The New York Times https://t.co/foWAC0gkqu

— Mike Rogge (@skiingrogge) July 30, 2019
Holiday Inn and InterContinental Hotels are switching to bulk-size bathroom amenities as part of an effort to cut waste. https://t.co/034i4cE02j

— USA TODAY Money (@USATODAYmoney) July 30, 2019
I'm totally up for protecting our planet, but I will miss feeling like a giant and the kitsch value of these little guys. https://t.co/SnrjG5hgjH

— Nik Hewitt (@nikhewitt) July 31, 2019
The fight to save the seas from plastic waste may mean the end for mini bottles of shampoo and other toiletries that hotel guests love to stuff into their luggage: https://t.co/8u5TCn2SxB

— USA TODAY Travel (@usatodaytravel) July 30, 2019