• 업데이트 : 정지로 인해 영향을 받고 있는 캘린더, 주소록 및 알림을 제외하고, 가동 중단되었던 Apple의 iCloud 및 기타 서비스가 거의 모두 백업되어 실행되고 있습니다.
• 거의 모든 iCloud 서비스에는 현재 "이 서비스에 문제가있을 수 있습니다."로 라벨링되어 있습니다.
Some Apple users are reporting that they are experiencing issues with iCloud, which appears to…
Apple's iCloud and store systems are down for some users
[www.theverge.com]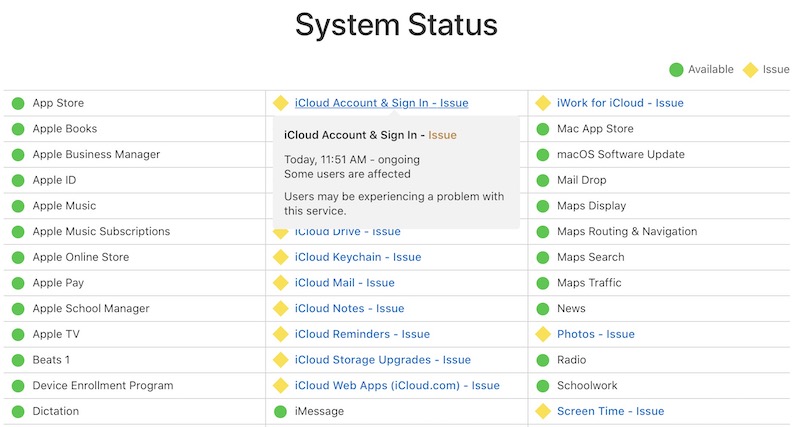 Apple today is experiencing problems with a host of iCloud-related services, as outlined on the…
Apple Experiencing Issues With iCloud Services and Retail Store Systems [Resolved]
[www.macrumors.com]
Apple is experiencing issues with most of its iCloud services today. Users are having…
Almost all iCloud services down for some users
[9to5mac.com]
Today is the perfect day to celebrate your independence… from Apple's iCloud services!…
Pretty much all of Apple's iCloud services are down… happy Independence Day!
[bgr.com]
Reports of iCloud outages made the rounds on Thursday, only a day after Facebook, Instagram, and…
Apple works to resolve iCloud issues after outages reported
[mashable.com]
This sign should be posted on many of Apple's iCloud…
Apple online services hit with multiple problems
[www.cultofmac.com]
@AppleSupport when is iCloud going to be working again? My phone is broken and @Apple store says they can't help me today because it's a national outage to transfer my data and they have never seen this before.

— Shannon Benovitz (@SBenovitz) July 4, 2019
iCloud is down in case you haven't lost your mind trying to enter your password already

— meaningful internet moniker (@loudersoft) July 4, 2019
The awkward moment you go into the Apple store and they say every store in the world right now can't sell anything.

Systems down and they don't know how long for. #FirstWorldProblems #Apple

— Elliott Cantor (@ElliottCantor) July 4, 2019
Systems are down completely @apple store international plaza Tampa, Fl. Can't even get my watch fixed

— wakaidev (@wakaidev) July 4, 2019