• 우리는 애플의 요구를 충족시킬 수 있는 충분한 역량을 가지고있습니다. "
• 게다가 미국 기업들과의 협력이 미국에 의해 이미 금지된 화웨이 (Huawei) CEO Ren Zhengfei는 중국은 애플에 대한 제재를 가함으로써 복수를해서는 안된다고 말했습니다.
• "우리의 생산 능력의 25 %가 중국 이외 지역에 있으며 우리는 애플이 미국 시장에서의 요구에 대응할 수 있도록 도울 수있다"고 Foxconn의 이사 후보자 및 반도체 사업 부장 Young Liu는 기자 회견 했습니다.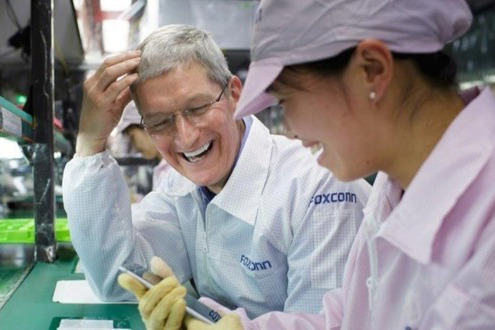 Foxconn claims it can make all of Apple's iPhones…
Foxconn claims it can make all of Apple's iPhones outside China
[appleinsider.com]
HONG KONG—Foxconn Technology Group said it is ready to shift production for Apple Inc. out…
Foxconn Says Prepared to Move Apple Production Out of China if Necessary
[www.wsj.com]
After Huawei, many see Apple as the next big victim of the China vs. the United States…
Apple Can Build the iPhone with Zero Chinese Participation
[news.softpedia.com]
Apple chief design officer Jony Ive (L) and Apple CEO Tim Cook inspect the new iPhone XR during an…
Foxconn can build iPhones for U.S. outside China
[www.cnbc.com]
This could help Apple counter China trade tariffs.…
Foxconn says it could manufacture all U.S. iPhones outside of China
[www.cultofmac.com]
Apple is reportedly prepared if the US-China trade war forces it to move production outside…
Apple Manufacturing Partner Foxconn Can Build All US iPhones Outside of China: Bloomberg
[www.iphoneincanada.ca]
Apple has sufficient iPhone…
Apple can reportedly make enough iPhones outside China
[www.cnet.com]
We've detected unusual activity from your computer network To continue, please…
Are you a robot?
[www.bloomberg.com]
iPhone assembler Foxconn says it has the capacity to manufacture Apple products outside of China if…
Foxconn: iPhones can be made outside of China if trade war worsens
[www.axios.com]
"It's unclear if India will ever become a major production base for Apple's marquee device. Foxconn is now running quality tests for the iPhone Xr series there & plans to begin mass production at a facility in the suburbs of Chennai. Older models are already assembled [in BLR]" https://t.co/v3TnwuG3XL

— Tanvi Madan (@tanvi_madan) June 11, 2019
Foxconn is now running quality tests for the iPhone Xr series in India and plans to begin mass production at a facility in the suburbs of Chennai. Older models are already assembled at a Wistron plant in Bangalore. https://t.co/lB6OpvT1e4

— NaMo Bharath®️ - Mission 365 Plus (@namo_bharath) June 11, 2019
"Twenty-five percent of our production capacity is outside of China and we can help Apple respond to its needs in the U.S. market," said Liu, adding that investments are now being made in India for Apple. "We have enough capacity to meet Apple's demand." https://t.co/QybQ2YeTYr

— Mohan Malik 实事求是 (@jmohanmalik) June 11, 2019
Apple Has Capacity to Make All iPhones for U.S. Outside of China - Bloomberg

Main assembler Foxconn says it's got enough non-China capacity https://t.co/Hlb6pDFtJZ

— Bidatzi (@bidatzi) June 11, 2019
Foxconn says it has the capacity to manufacture Apple products outside of China if U.S.-China trade relations escalate, Bloomberg reportshttps://t.co/cDzbkAeJzk

— Axios (@axios) June 11, 2019
Expect more announcements like this one from Foxconn.

Irrespective of how trade conflict turns out, a growing number of firms will continue to decouple from #China & move manufacturing to other countries. https://t.co/CPfwvYaXs1

— Marco Rubio (@marcorubio) June 12, 2019
⁦@cvpayne⁩ Foxconn's signaling its willingness to move production out of China has received little media notice, but it's significant and another sign that China has less ammo at its disposal than most folks realize... https://t.co/Git6d8XEHc

— Ed Miller (@permmiller) June 12, 2019
Apple's US iPhones Can All Be Made Outside of China If Needed, Says Foxconn. They Setup a Backup Factory in India to make All iDevices. I guess when India comes under the radar, production will shift to Africa or another 3rd world country. https://t.co/lzKyC5XAE7

— The Best Linux Blog In the Unixverse (@nixcraft) June 12, 2019
Trump's trade war against China is a great news for India: Foxconn exec: "we can help Apple respond to its needs in the U.S. market," said Liu, adding that investments are now being made in India for Apple. "We have enough capacity to meet Apple's demand." https://t.co/7aAhI4LJzf

— Chandrakant (@MiserlyGeek) June 11, 2019
Why The Hell @Apple Hasn't Moved It's Factory Out of China?!
??‍♂️
Apple's US iPhones Can All Be Made Outside Of China If Needed

Main Assembler Foxconn Says it's Got Enough Non-China Capacityhttps://t.co/UEgKGY0jfN

— BenTallmadge (@BenKTallmadge) June 11, 2019
"Twenty-five percent of our production capacity is outside of China and we can help Apple respond to its needs in the U.S. market," said Liu, adding that investments are now being made in India for Apple. "We have enough capacity to meet Apple's demand." https://t.co/PnUNYgFwEz

— John Hemmings (@JohnHemmings2) June 11, 2019