• 이를 위해 회사는 적어도 iPhone XI와 iPhone XI Max에 이상한, 그리고 최초의 삼각 후방 카메라의 배치를 장착하는 것입니다.
• 그가 iPhone 11 일 수 있다고 생각했다는 전화의 사진을 포함했습니다, 그리고 얼핏 볼 때 이 전화가 Foxconn CEO의 Terry Gou의 손에 있었다는 것을 고려하면 믿을만한 것 같았습니다.
• 6.5 인치 OLED, 5.8 인치 OLED, 6.1 인치 LCD의 후면 카메라는 각각 트리플 카메라와 듀얼 카메라로 업그레이드 될 전망입니다.
• 마지막으로,이 회사는 렌즈를 눈에 띄지 않게 보이는 '검은 렌즈 코팅 기술'을 사용하는 것으로 알려져 있습니다.
It's a good year for iPhone leaks. Apple's supply chain is benevolent, as we've seen…
2019 iPhone XI And XI Max Case Moulds Confirm New Cameras
[wccftech.com]
SlashLeaks posts an image that is alleged to be iPhone XI and XI Max molds for 3rd party case…
Alleged iPhone XI and XI Max Molds Show Triple Camera Layout
[www.macrumors.com]
It's only April and the 2019 Apple…
Was that the Apple iPhone 11 in Foxconn CEO Terry Gou's hands?
[www.phonearena.com]
If you visit BGR with any frequency, you know that we love a good iPhone leak as much as…
People are saying Foxconn's CEO just leaked the iPhone 11
[bgr.com]
What's on your wishlist for the 2019 iPhones? Based on analyst reports, Apple is planning to…
Apple reportedly planning big upgrades to the cameras on the iPhone 11
[www.techradar.com]
A trusted Apple insider earlier this week shared additional details about the upcoming…
Let's put a stop to this iPhone 11 'black-lens' camera nonsense
[bgr.com]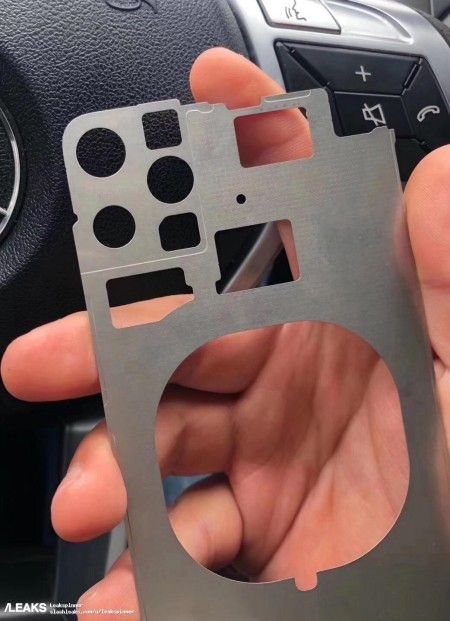 "The 2019 iPhones will reportedly…
iPhone 2019 models will feature 12MP cameras in the front and back: Ming-Chi Kuo
[www.91mobiles.com]
Here's another space and memory hog. If you want to save every message for eternity, then this will…
Simple tips to speed up your iPhone
[www.zdnet.com]
'iPhone XI' and 'iPhone XI Max' case manufacturing…
'iPhone XI' and 'iPhone XI Max' case manufacturing dummies pop up on Chinese social media
[appleinsider.com]
Open Wiki - Feel free to
edit it
. -
4/23 '19 answered