• 감독 관청은 필요한 데이터 필드만 계약자와 공유되도록, FEMA가 안전 장치를 설치하는 것을 권장합니다.
• FEMA는 계약자가 업무를 수행하는 데 필요한 것보다 많은 "데이터 요소"를 공유했다고 보고서는 전했습니다.
• 이러한 사건의 생존자들은 임시 주택과 같은 도움을 얻기 위해 개인 정보를 FEMA에 제공했습니다.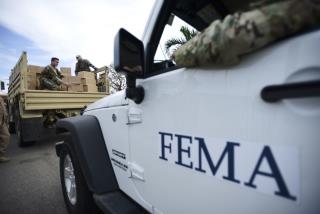 …
FEMA Disclosed Sensitive Data of More Than 2M Disaster Survivors
[www.newser.com]
In this Sunday, Aug. 27, 2017 file photo, a group of people push a stalled pickup through a flooded…
FEMA Breach Exposes Personal Data and Banking Information of 2.3 Million Disaster Survivors
[gizmodo.com]
Source: Andrea Booher/FEMA The Office for the Inspector General for the DHS issued a report today…
FEMA Data Leak Exposes Personal Info of 2.3M Disaster Survivors
[www.bleepingcomputer.com]
Written by Sean Lyngaas Mar…
FEMA exposed personal data on 2.3 million disaster survivors, violated privacy law, IG finds
[www.cyberscoop.com]
WASHINGTON (AP) — The Federal Emergency Management Agency wrongly released to a contractor the…
Watchdog: FEMA Wrongly Released Personal Data Of Victims
[sacramento.cbslocal.com]
https://edition.cnn.com/2019/03/22/politics/fema-shared-information/
The Department of Homeland Security inspector general said Friday that FEMA had unlawfully…
FEMA shared 2.3 million disaster survivors' personal information with contractor
[edition.cnn.com]
President Donald Trump, Vice…
FEMA put 2.3 million victims of wildfires, hurricanes at risk of identity theft.
[slate.com]
Open Wiki - Feel free to
edit it
. -
3/25 '19 answered