몰누피라비르는 백신이 아닙니다. 그것은 경구용 항바이러스제이며, 전문가들은 그러한 약을 개발하는 것이 Covid-19를 막을 다음 기회가 될 수 있다고 말했습니다. 매일 복용하는 약의 단기 복용은 진단 후 바이러스와 조기에 싸우고 노출 후 증상이 나타나는 것을 막는 것을 목표로 할 것입니다. Merck은 연구 결과를 기다리는 동안 복용량을 생산해왔고 연말까지 1,000만 개를 생산할 것으로 예상하고 있습니다.
한 가지 항바이러스제가 COVID 치료제로 승인되었습니다. 렘데시비르는 병원에서 아픈 환자들에게 정맥주사를 투여합니다. 그 회사는 문제점을 명시하지 않았습니다.
• 연방정부는 이미 잠재적 승인을 계획하고 있습니다. 그것은 170만 코스의 몰누피라비르 치료제를 12억 달러에 사들이기로 약속했고, 그 약의 생산은 이미 시작되었습니다.
• 실험의 29일까지 몰누피라비르를 받은 환자의 7.3%가 사망했거나 입원한 반면, 플라시보 그룹에 있었던 환자는 14.1%였습니다(그들이 약을 받지 못했다는 의미).
• 거대 제약회사인 머크는 금요일에 COVID-19에 걸린 사람들을 위한 좋은 소식을 보고했습니다. 그 회사의 중간 분석에 따르면, 그것의 항바이러스제 몰누피라비르는 위험에 처한 환자들의 입원 및 사망 위험을 50% 줄였습니다.
How Merck's Covid-19 pill molnupiravir could change the Covid-19 pandemic
[www.vox.com]
Fauci says new pill 'impressive' at keeping COVID patients alive and out of hospitals
[news.yahoo.com]
The country just surpassed 700,000 Covid-19 deaths
[edition.cnn.com]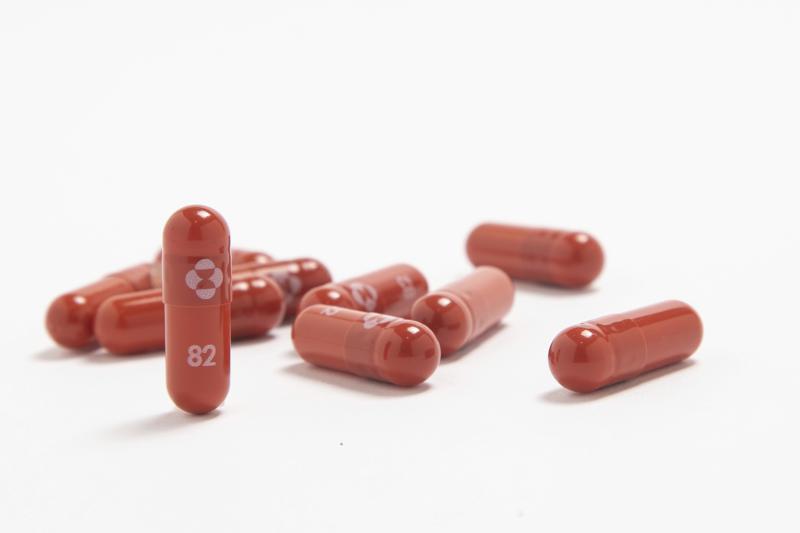 Merck says COVID-19 pill cuts risk of death, hospitalization
[apnews.com]
Are you a robot?
[www.bloomberg.com]
Open Wiki - Feel free to
edit it
. -
10/2 '21 answered
Merck's new antiviral drug for Covid-19 is called molnupiravir. The name is a reference to Mjölnir, Thor's hammer.

It cut hospitalizations in half, Merck says — and it could become a new and lifesaving tool for Covid-19 patients. https://t.co/YEmSp5b4SE

— Vox (@voxdotcom) October 1, 2021
Merck oral drug isn't the panacea we were hoping for, but it's still a powerful tool (if the data holds up) in ending this bullsh!t. 50% reduction in hospitalization ain't chopped liver.https://t.co/XDPJEBcRvT

— Doctor Steve (@weirdmedicine) October 1, 2021
In a potential leap forward in the global fight against the pandemic, drugmaker Merck says that molnupiravir, its experimental pill for people sick with COVID-19, reduced hospitalizations and deaths by half #NBTNewsBeat https://t.co/VsaKxg99jn

— Nature Biotechnology (@NatureBiotech) October 1, 2021
IF this is true, this will be an easy test of the COVID vaxx cult. IF the pill prevents hospitalization & death 50% of the time after contracting covid… then there's no reason to mandate the vaxx (even if govt had the right to mandate, which I dispute). https://t.co/wQVUNKHmZ7

— Liz Wheeler (@Liz_Wheeler) October 1, 2021