• 새로운 주요 광각 카메라에는 더 큰 픽셀이있는 더 큰 센서가 있으며, 카메라 시스템은 로우 라이트 사진을 찍는 데있어 iPhone 12 Pro 및 Pro Max보다 더 낫습니다.
• 진실은 스마트폰이 몇 년 전에 최고조에 달했다는 것입니다.
• 특히 애플의 아이폰 13은 아이폰에 대한 가장 점진적인 업데이트일 수 있습니다.
• 최신 아이폰은 작년 모델보다 겨우 10% 빨라졌습니다.
• (2015년, iPhone 6S는 이전 버전인 iPhone 6보다 70% 이상 빠릅니다.)
• 그러나 테스트에서 개선 사항은 미미한 수준이었습니다.
• "스마트폰이 안정되었다는 사실이 나쁜 것은 아닙니다.
iPhone 13 Pro and Pro Max: 120Hz refresh rate, camera upgrades and every other feature announced
[www.cnet.com]
https://www.apple.com/newsroom/2021/09/apple-unveils-iphone-13-pro-and-iphone-13-pro-max-more-pro-than-ever-before/
The most important announcements from Apple's iPhone 13 event
[finance.yahoo.com]
Should you upgrade to the iPhone 13?
[us.cnn.com]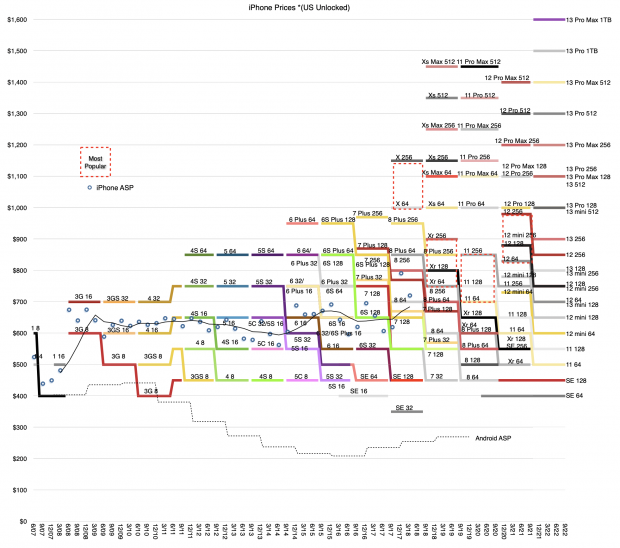 The Most Important iPhone Ever
[www.asymco.com]
Is the iPhone 13 Worth Buying? Our Review
[time.com]
The iPhone is not as expensive as you think
[www.nextpit.com]
iPhone 13 Pro Max vs iPhone 12 Pro Max: which should you buy?
[www.whathifi.com]
iPhone 13 review roundup: Best phones ever, but not everyone should upgrade
[bgr.com]
Apple iPhone 13 review: What's new this fall
[www.cnbc.com]
iPhone 13 Pro and 13 Pro Max review: Damn, these cameras
[www.cnet.com]
Which of the new iPhone 13 devices are the best value for money?
[www.techradar.com]
Apple iPhone 13 Review: The Most Incremental Upgrade Ever
[www.nytimes.com]
Gallery: Travel photographer Austin Mann shows off stunning iPhone 13 Pro camera results
[9to5mac.com]
Amazing cameras make amateur photographers look like wizards
[economictimes.indiatimes.com]
iPhone users make up about 26% of worldwide smartphone users — but about 60% of the U.S. market: https://t.co/9BCRa51tch

In my mind Android outnumbered iPhone 2:1 in the US, but Apple had the lead on profit margin. Turns out Apple leads by user count, too!

— David H. Montgomery (@dhmontgomery) September 23, 2021