애플은 사생활을 훼손하고 있거나 이전 약속을 철회하고 있다는 사실을 강하게 부인했습니다. 그 회사는 이러한 주장들 중 많은 부분을 다루기 위해 노력하는 두 번째 문서를 출판했습니다.
• 애플은 아이폰과 아이패드를 통해 아이클라우드포토 아동성학대물(CSAM)을 스캔할 계획을 자세히 밝혔습니다.
• 이 시스템은 사진이 Apple 장치에 저장되어 있는 동안 스캔을 수행하도록 구축되어 있으며, 실종 아동 및 학대 아동 센터에서 관리하는 알려진 아동 학대 이미지의 데이터베이스에 대해 사진을 테스트합니다.
• "우리는 우리가 하는 일에 대해 매우 긍정적이고 강하게 느끼기 때문에 이 사실이 모두에게 좀 더 명확하게 밝혀졌으면 합니다."
• Apple은 또한 알려진 CSAM 이미지의 기기 내 데이터베이스에는 별도의 주권 관할 지역에서 운영되는 두 개 이상의 어린이 안전 기관이 독립적으로 제출한 항목만 포함되며 동일한 정부의 통제를 받지 않는다고 밝혔습니다.
Apple Preparing Its Employees to Answer CSAM-Related Questions
[www.iphonehacks.com]
Why Apple's child safety updates are so controversial
[www.engadget.com]
Apple details iCloud Photos child safety scanning safeguards
[www.theverge.com]
Apple software head says plan to scan iPhones for child abuse images is 'misunderstood'
[www.cnet.com]
Apple Wants to Protect Children. But It's Creating Serious Privacy Risks.
[www.nytimes.com]
fossbytes.com used Cloudflare to restrict access
[fossbytes.com]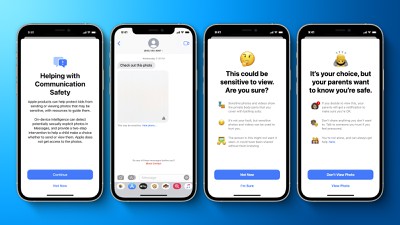 Apple Outlines Security and Privacy of CSAM Detection System in New Document
[www.macrumors.com]
Apple Details its CSAM Detection System's Privacy and Security
[www.iphoneincanada.ca]
Apple shares a security threat review for its new CSAM detection feature
[www.imore.com]
Apple details user privacy, security features built into its CSAM scanning system
[appleinsider.com]
[www.apple.com]
Apple offers another look at the security and privacy baked into CSAM photo scanning
[www.idownloadblog.com]
Apple has published more info on how they're preventing their child protection system from being used for non-CSAM:https://t.co/pifB3wXW0t

On first read, looks thorough.

I doubt it will convince my friends opposed to this, as slippery slope is seen as anything on device.

— Ben Adida (@benadida) August 13, 2021