• 지난 주 버밍엄 교외에 있는 회사 창고를 조합할지에 대한 투표는 아마존의 승리로 끝났으며, 근로자들은 조합에 가입하는 것에 대해 2-1로 반대표를 던졌습니다.
• 비록 회사가 친노조 노동자에 대한 보복에 책임이 있다고 밝혀지더라도, 회사가 직면하는 유일한 재정적 처벌과 해고 노동자가 받을 수 있는 유일한 보상은 그 노동자들을 복직시키고 그들이 새로운 노동자에서 벌어들인 임금을 뺀 해고된 시간에 대한 보수를 하는 것입니다.
In Alabama, Black Amazon Workers Vote Their Economic Interest
[www.wsj.com]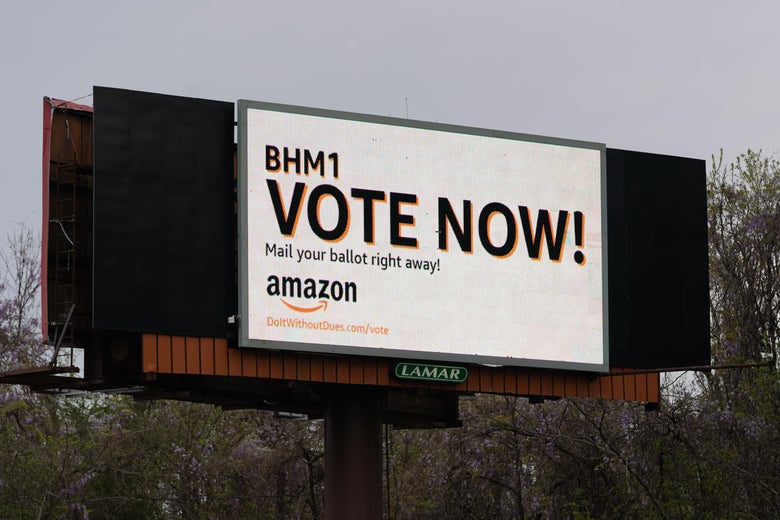 Amazon creamed the union drive in Bessemer, Alabama. Here's why organizers think it happened.
[slate.com]
Many of its anti-union voters were legal, because labor is broken.
[slate.com]
The Guardian view on Amazon and unions: an unfair fight, but not yet over
[www.theguardian.com]
Open Wiki - Feel free to
edit it
. -
4/16 '21 answered
"The growing disconnect between political elites & ordinary blacks was on display again last week when Big Labor's attempt to organize an Amazon facility in Alabama with a workforce estimated to be 85% black was rebuffed by … more than 2 to 1."https://t.co/FxPXhaLknc

— Jeff Jacoby (@Jeff_Jacoby) April 14, 2021
Bessemer workers never got a free and fair union election. But even if the NLRB orders a redo, they *still* won't get a fair election—because many of Amazon's worst union-busting tactics are legal. @graceLpezzella and I on why we need to pass the #PROAct: https://t.co/aISYsiAxas

— Sejal Singh (@Sej_Singh) April 13, 2021
"Anti-union employers like Amazon are winning, because the very laws that are supposed to protect workers' right to organize make it easy for employers to kill a union with a barrage of intimidation and retaliation."
https://t.co/Oaa67U0uGr

— R Givan (@rkgwork) April 13, 2021