• CNBC 기자 데이비드 페이버에 따르면 알리바바와 앤트 그룹 창립자 잭 마는 추측대로 실종되지 않았다고 합니다.
• 중국 억만장자 마윈의 행방을 놓고 추측이 무성하다. 마윈은 두 달 넘게 대중 앞에서 모습을 드러내지 않고 있습니다.
Beijing's Ant-Eaters
[www.wsj.com]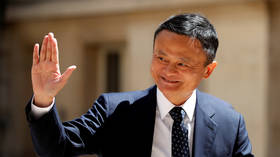 Has China's Jack Ma really gone 'missing,' or is Beijing simply showing the iconic billionaire who's boss?
[www.rt.com]
Jack Ma is not missing, likely laying low in Hangzhou: report
[www.businessinsider.com]
Alibaba founder Jack Ma is lying low for the time being, but he's not missing
[www.cnbc.com]
Are you a robot?
[www.bloomberg.com]
Where is Jack Ma?
[www.protocol.com]
Is Jack Ma Missing? A Timeline Of Chinese Billionaire's Last Known Whereabouts
[www.ibtimes.com]
Where is Jack Ma? Chinese tycoon not seen since October
[www.theguardian.com]
Jack Ma's disappearing act fuels speculation about billionaire's whereabouts
[www.reuters.com]
Where is Jack Ma? Questions arise about the billionaire's whereabouts as Alibaba faces scrutiny from the Chinese government
[www.businessinsider.in]
https://twitter.com/johnrobb/status/1346154930290253825
https://twitter.com/ConCaracal/status/1346162311237664772
The need to crackdown on the power and influence of Big Tech is not just a concern for the West. This episode with the Alibaba founder cannot be portrayed as the Communist Party just wielding its power for power's sake.

- Tom Fowdyhttps://t.co/5c8V7biwwz

— RT (@RT_com) January 6, 2021
If Mark Zuckerberg was brought to kneel by US regulators in the way Jack Ma has been, it would be celebrated. China's government is showing Ma who is boss, and that's precisely the way Big Tech companies ought to be managed.

- Tom Fowdy#JackMahttps://t.co/5c8V7biwwz

— RT (@RT_com) January 5, 2021
How does a THREE paragraph story relying on ONE ANONYMOUS source from an outlet taking trips and private dinners from by the Chinese Communist Party prove Jack Ma is still alive? https://t.co/HkjrOePq7A

— Natalie Winters (@nataliegwinters) January 5, 2021
BREAKING- JACK MA ANNOUNCES HES DEFINITELY NOT KIDNAPPED AND HES BEING TREATED FINE..OF COURSE HES BEING TREATED FINE BECAUSE ITS JUST HIM BY HIMSELF...NOT KIDNAPPEDhttps://t.co/A0jMaQvLJo

— Bryce Du pont VC THC PCP (@richassvc) January 5, 2021
Where is Jack Ma? Questions arise about the billionaire's whereabouts as Alibaba faces scrutiny from the Chinese govt. led by Chinese Communist Party (CCP) https://t.co/9YOHvCGhW9

— TEAM BHARAT (@TeamBharat_) January 4, 2021