• 트위터는 무심코 리트 윗하는 옵션을 제거하여 허위 정보의 확산을 줄이기위한 실험을 중단했습니다.
• 예를 들어 기사를 읽으라는 메시지가 더 많은 정보에 입각한 공유로 이어진다는 것을 알고 있습니다.
• 리트윗을 시도하면 더 이상 인용 트윗 프롬프트가 표시되지 않습니다.
• 트위터가 인용 트윗을 재촉한 이유는 "좀 더 사려깊은 확산을 장려하기 위한 것"이었습니다.
• "다시 말해, 그들은 사용자들이 아무 생각 없이 트윗을 리트윗하기 보다는 트윗이나 스레드에 자신의 해설을 추가하기를 원했습니다.
• 재촉되는 Quote Retweet가 이제 롤백되고 리트윗이 이전 동작으로 돌아가므로 간단한 리트윗 또는 인용 트윗 중에서 선택할 수 있습니다.
• 인용 트윗의 70%는 25자 미만이었습니다.
Twitter Returning Retweet Functionality Back to its Original State
[www.iphoneincanada.ca]
Quote tweet initiative abandoned by Twitter
[9to5mac.com]
Twitter is returning retweets to the way they used to be
[www.theverge.com]
Twitter reemphasizes retweets after quote tweets didn't work as hoped
[mashable.com]
Twitter Retweet is back - Just as well!
[www.techradar.com]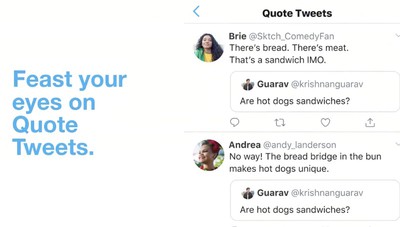 Twitter Kills Quote Tweet Prompt, Returns Retweet Action to Original Behavior
[www.macrumors.com]
Twitter gives up on its quote tweet experiment, restores retweet feature
[www.androidcentral.com]
Twitter rolls back forced Quote Tweet retweeting, admits defeat
[www.slashgear.com]
Twitter reverts its retweets method
[www.pocket-lint.com]
Twitter stops prompting quote tweets, says most users didn't add much
[www.neowin.net]
https://blog.twitter.com/en_us/topics/company/2020/covid19-vaccine.html
https://twitter.com/luulubuu/status/1339358604168744960
https://help.twitter.com/en/rules-and-policies/medical-misinformation-policy
https://twitter.com/oneunderscore__/status/1339319082634665990
https://twitter.com/javi_draws/status/1339489923246731265
https://twitter.com/markdistef/status/1339305994279673858
Twitter's UX experiment to prompt Quote Tweets fails to result in "more thoughtful amplification" and actually caused a 20% drop in sharing.. https://t.co/ZCdLyFmjoX

— Dr. Scott Cowley (@scottcowley) December 17, 2020