• Apple에 따르면 M1의 옥타 코어 GPU는 거의 25,000 개의 스레드를 동시에 처리하고 최대 2.6TFLOPS의 처리량을 제공할 수 있습니다.
• GFXBench5.0 벤치 마크는 Apple의 MetalAPI에서 테스트되었으며, M1은 Nvidia GeForce GTX 1050Ti 및 AMDRadeon RX560보다 상당한 차이로 성능이 뛰어난 것으로 보여줍니다.
M1 MacBook Air Emulating x86 Processors Beats Out Some Macs On Benchmarks
[www.ubergizmo.com]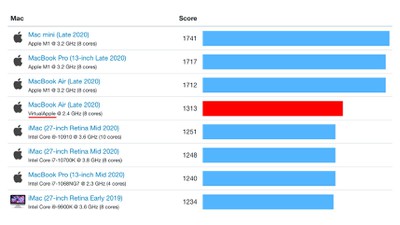 Apple Silicon M1 Emulating x86 is Still Faster Than Every Other Mac in Single Core Benchmark
[www.macrumors.com]
M1 Chip Beats GeForce GTX 1050 Ti and Radeon RX 560 for Graphics Performance
[www.macrumors.com]
Apple's M1 SoC Shreds GeForce GTX 1050 Ti In New Graphics Benchmark
[www.tomshardware.com]
Apple M1 beats NVIDIA GeForce GTX 1050 Ti and AMD Radeon RX 560 in graphics performance
[mspoweruser.com]
M1 Mac mini faster than all Intel Macs in single-core benchmarks
[www.cultofmac.com]
M1 MacBook Air Running x86 Emulation Under Rosetta 2 Is Still Faster Than Every Mac Model in Single-Core Workloads
[wccftech.com]
Hungry for some Apple chips? I know I am.
[medium.com]
Roughly what I expected would be the case. It's pretty embarrassing when you can run translated code faster than native. Shows why there was a need to make a transition https://t.co/B0je0MqIDq

— Jon Masters ?‍☠️ (@jonmasters) November 16, 2020
I love that Apple's M1 can easily shrug off a 20% performance hit just to emulate x86_64 and still be faster than the Intel chips in the rest of Apple's lineup

— Steve Troughton-Smith (@stroughtonsmith) November 15, 2020
Oh, buddy. Bear in mind that Rosetta perf will decrease drastically for anything you can't translate ahead-of-time, like e.g. emulation or software video encode/decode, or super-optimized Intel code, but for general app usage you won't even notice you're running on Rosetta at all https://t.co/bhYxbzeuZZ

— Steve Troughton-Smith (@stroughtonsmith) November 15, 2020
애플실리콘 M1 칩, x86 에뮬레이팅에서조차도 싱글코어에서 여전히 다른 모든 맥보다 더 빨라
- M1 칩 구동 맥북 에어(8GB 램)의 새로운 로제타 2 긱벤치 싱글코어 및 멀티코어 점수는 각각 1313과 5888
- 싱글코어 로제타 2 점수, 고유 애플실리콘 코드 성능의 78-79% 성취https://t.co/oh50y92Jby

— Wan Ki Choi (@wkchoi) November 16, 2020
2日前のニュースですが、M1チップはGTX1050TiやRadeon RX560を上回る性能らしいです(๑•̀д•́๑)エェ

Apple's M1 SoC Shreds GeForce GTX 1050 Ti in New Graphics Benchmark https://t.co/fsL2wKsIn8

— NANA?令和2年生? (@NANA_CoRRiENTE) November 16, 2020