• 10 월 22 일 Instagram Communication은 "#EndSARS를 지원하는 콘텐츠를 잘못 표시하고 게시물을 거짓으로 표시한 것에 대해 사과했습니다.
• 나이지리아 보안군이 10 월 20 일 청소년 시위대를 총살하자 #EndSARS가 경찰의 폭력을 종식시키기 위해 집회하는 동안 페이스북과 인스타그램에서 적극적으로 뉴스를 공유하는 소셜 미디어 게시물이 '가짜 뉴스'로 잘못 표시되었습니다.
How Facebook derailed Nigeria's #EndSARS movement
[globalvoices.org]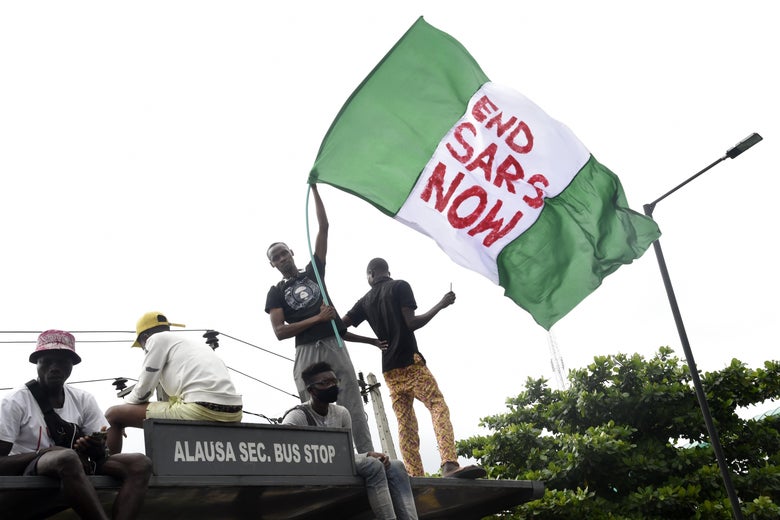 Facebook's censorship of the #EndSARS protests shows the price of its content moderation errors.
[slate.com]
Facebook hurt Nigeria's #EndSARS protest while Twitter boosted it — Quartz
[qz.com]
"The bloodied flag and other alarming images found their way to Facebook and Instagram—which soon labeled them as false information. Their automated systems were confusing the SARS of the hashtag with the initials for severe acute respiratory syndrome." https://t.co/5zXmjwWDjt

— Jesse Walker (@notjessewalker) October 27, 2020
Facebook and Instagram's automated content moderation systems incorrectly labeled posts from the #EndSARS protests as false information. That played into the Nigerian government's hands. https://t.co/1Qj6JEJpPc

— Slate (@Slate) October 28, 2020
Instagram is wrongly censoring posts about Nigeria #EndSARS protests, labeling info about police violence "false information."

Many users reported problems, including activists and celebrities like Kelly Rowland. A Facebook rep told @VICE it is working to fix the issue. pic.twitter.com/JJf1g5MrkM

— AJ+ (@ajplus) October 22, 2020
A propos Facebook's labelling of #EndSARS as "Fake News" :

"Facebook has shown that it has no respect for the diversity of point of view which is dangerous for democracy & violates Nigerians' rights" said Dr Affagnon, our West Africa Coordinator https://t.co/49ueIkYaAQ

— Internet Without Borders (@Internet_SF) October 27, 2020