• Apple은 오늘 iPhone 12 라인업을 출시했으며 소문이 있듯이 네 가지 모델 모두 상자에 EarPod 또는 전원 어댑터가 포함되어 있지 않습니다.
• Apple은 많은 고객이 AirPods와 같은 무선 헤드폰으로 전환했으며 전 세계에 20 억 개가 넘는 Apple 전원 어댑터가 있다고 말했습니다. 이는 많은 고객이 더 이상 이러한 액세서리가 필요하지 않음을 의미합니다.
• 지난달 Apple Watch Series 6와 Apple Watch SE는 전원 어댑터없이 출시 되었기 때문에 iPhone이 그 뒤를 따랐다는 것은 놀라운 일이 아닙니다.
New iPhone SE, Older iPhone 11 and iPhone XR Models Won't Have Wired EarPods or Charger in Their Packaging
[wccftech.com]
Apple Lowers Price of EarPods by $10 Now That They Aren't Included With iPhones
[www.macrumors.com]
Apple cuts prices on EarPods and its iPhone power adapter by $10
[www.engadget.com]
iPhone 11, XR, and SE No Longer Come With EarPods and Power Adapter But USB-C to Lightning Cable Included
[www.macrumors.com]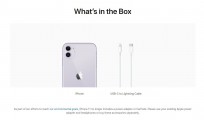 iPhone 11, SE (2020) and XR also lose in-box chargers and EarPods
[www.gsmarena.com]
Apple lowers price of accessories no longer included in the iPhone box
[www.imore.com]
Are there really no earphones or charger with the 2020 iPhones?
[www.pickr.com.au]
iPhone 12 Mini, older models to drive growth for Apple in 2020; Pro models steeply priced: Analysts
[telecom.economictimes.indiatimes.com]
Apple is removing the power adapter and EarPods from every iPhone box
[bgr.com]
iPhone 12 launch event: Apple Special Event 2020, 'Hi Speed'
[en.as.com]
Open Wiki - Feel free to
edit it
. -
10/17 '20 answered
Apple removing the headphone jack - 'courage'
Apple removing headphones and chargers from the box because you already have them - 'good for the planet'
Both probably good decisions but ?

— Benedict Evans (@benedictevans) October 13, 2020
If I could just get an iPhone that uses USB-C, they could also drop the Lightning to USB-C cable, and I'd be so happy. So happy. https://t.co/CSAguVPPzp

— Danny Sullivan (@dannysullivan) October 13, 2020
Look for the iPhone SE box to shrink considerably. Also for the USB-A to Lightning cable to become a USB-C to Lightning cable. Headphones out too.

— Mark Gurman (@markgurman) October 13, 2020
In addition to removing the charging adapter from the newest iPhones today, look for Apple to do the same for the SE and other iPhones it'll keep selling.

— Mark Gurman (@markgurman) October 13, 2020
애플, iPhone 11과 SE(2020)와 XR도 박스에 충전기와 EarPods 미포함
- 애플, 어제 박스에 충전기와 이어폰이 포함되지 않은 첫 iPhone을 공개해
- 새 iPhone 12 모델, 오직 USB-C 투 라이트닝 케이블만 포함
- 이 변경은 iPhone XR, 11, SE(2020) 같은 구형 모델에도 적용돼https://t.co/hNTQsjT7lQ

— Wan Ki Choi (@wkchoi) October 14, 2020