• 그는 TikTok의 최고 경영자 및 플랫폼의 중국 모회사 인 ByteDance의 최고 운영 책임자로 지명되었습니다.
• 월트 디즈니 컴퍼니의 스트리밍 최고 경영자인 케빈 메이어 (Kevin Mayer)는 월요일 사임했으며 코로나 바이러스 대유행 기간 동안 폭발적으로 인기를 끌었던 짧은 비디오를 제작하고 공유하는 앱인 틱톡 (TikTok)의 최고 경영자가 됩니다.
• 앱 사용 데이터를 추적하는 센서 타워 (Sensor Tower)에 따르면 미국의 신규 사용자는 3 월에 약 1,100 만 회, 12 월에 비해 거의 두 배로 앱을 다운로드했다고합니다.
• 그러나 역할은 공원, 경험 및 제품 책임자인 Bob Chapek에게 주어졌습니다.
• 그는 2018 년 이래 디즈니의 직접 소비자 부문(direct-to-consume) 의장직을 맡았으며, 전세계 많은 사람들이 집에 계속 머물면서 새로운 시간을 보낼 수 있는 방법을 찾기 위해 틱톡의 인기는 코로나 바이러스 대유행 중에 급증하고 있습니다.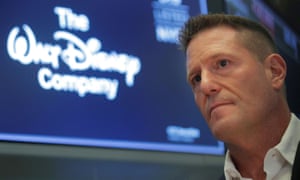 Streaming executive behind Disney+ to become new TikTok CEO
[www.theguardian.com]
Disney's head of streaming to become CEO of TikTok
[www.bbc.com]
TikTok Appoints New CEO in Disney Executive Kevin Mayer
[www.socialmediatoday.com]
Start Up No.1311: Huawei hits out over new sanctions, Uber cuts further, Disney loses exec to TikTok, Microsoft loves open source!, and more
[theoverspill.blog]
TikTok's new CEO will face music labels, competition, and Congress
[www.theverge.com]
Disney's Head of Streaming, Kevin Mayer, Becomes TikTok C.E.O.
[www.nytimes.com]
Disney streaming chief leaves to become CEO of TikTok
[edition.cnn.com]
Disney streaming exec Kevin Mayer becomes TikTok's new CEO
[techcrunch.com]
After a short-lived stint as TikTok chief, Musical.ly co-founder Alex Zhu is returning to his 'primary passion'
[www.scmp.com]
https://twitter.com/mdudas/status/1262483279191707649
Kevin Mayer, who was in charge of streaming for Disney, helping launch Disney+ (and surprisingly also worked for Playboy in between his two non-consecutive Disney stints), has left the company to run the popular video site TikTok: https://t.co/3ZOKBKgWnH

— Ryan W. Mead (@rwmead) May 18, 2020