• Apple과 Google이 개발중인 플랫폼은 혁신적인 암호화 체계를 사용하여 시스템을 선택하는 사람들의 개인 정보에 위험을 초래하지 않으면서 접촉 추적을 확장할 수 있습니다.
• "첫 번째 명백한 경고는 이것이 '비공개'(적어도 BTLE보다 나쁘지 않다)라는 것입니다. 단 당신이 양성이 되는 순간까지만 *"이라고 그는 한 트윗에서 썼습니다.
• "이 시점에서 이전 기간 동안의 모든 BLE mac 주소 [BLE MAC 주소]는 연결 가능하게됩니다.
• 애플과 구글은 5 월 중순부터 API (application programming interface)부터 시작하여 두 단계로 프로그램을 시작하고 있습니다.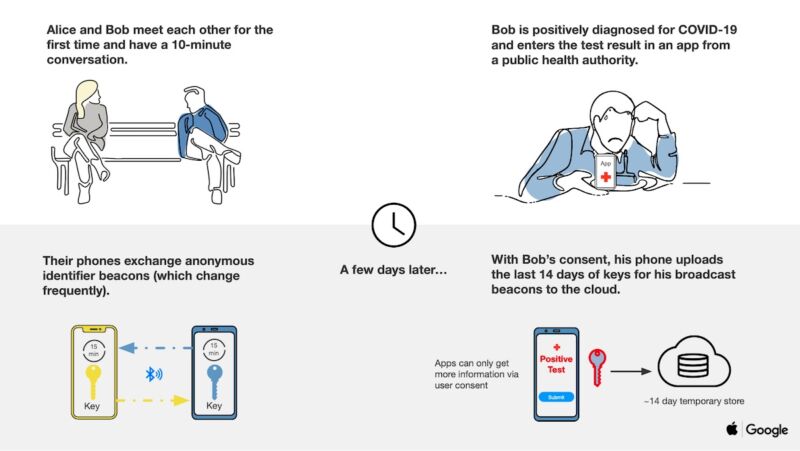 Apple and Google detail bold and ambitious plan to track COVID-19 at scale
[arstechnica.com]
Apple and Google Partner for Privacy-Preserving COVID-19 Contact Tracing and Notification
[tidbits.com]
How you'll use Apple and Google's coronavirus tracking tool
[www.theverge.com]
With Apple, Google and COVID-19, tech journalists hit the trifecta
[www.ped30.com]
How Apple and Google Are Enabling Covid-19 Bluetooth Contact-Tracing
[www.wired.com]
First look at Apple/Google contact tracing framework:

1) Once a day, your device derives a new key ("daily tracing key").

2) It uses that to derive a new "proximity ID" every time your device's bluetooth address changes (15min), which is broadcast to nearby BT sensors.

1/10

— Moxie Marlinspike (@moxie) April 10, 2020
Apple과 Google이 '신종 코로나 바이러스 추적 시스템」는 iOS 및 Android에 통합
• 스마트폰을 이용한 감염 링크를 추적하는 도구는 신종 코로나 바이러스와 관련하여 중국, 싱가포르, 한국이 제공하고 있습니다.
• Apple과 Google이 팀을 이뤄, 더 이상 모든 지구상의 스마트폰 연합에 의한 센서가 작동하는 것을 의미하고 있습니다.
• 특히 세계적으로도 큰 뉴스는 Apple과 Google이 협력하여 농후 접촉 가능성을 감지하는 기술을 개발한다는 얘기.
• 신종 코로나 바이러스 감염이 퍼지는 가운데, Apple과 Google은 각국의 보건 당국이 감염 링크를 쫓기 위해 기술을 신속하게 공동 개발한다고 발표했습니다.
AppleとGoogleが「新型コロナウイルス追跡システム」をiOSとAndroidに組み込む - GIGAZINE
[gigazine.net]
GoogleとAppleの地球スマホ連合のプライバシー VS 新型コロナウィルスの戦い
[news.yahoo.co.jp]
AppleとGoogleが手を組んだ。感染拡大阻止に「スマホ技術」ができること【西田宗千佳のイマトミライ】-Impress Watch
[www.watch.impress.co.jp]
新型コロナ感染追跡とプライバシー保護を両立 AppleとGoogleが共同開発する技術とは?
[www.itmedia.co.jp]
AppleとGoogle,新型コロナウイルスの感染経路を追跡するシステムについての協力を発表 - 4Gamer.net
[www.4gamer.net]
AppleとGoogleが「新型コロナウイルス追跡システム」をiOSとAndroidに組み込む - GIGAZINE https://t.co/08t84VYjOy
Singaporeで導入されたTraceTogetherみたいな仕組みをAppleとGoogleが5月からスマホに導入するということ?

— 中澤 港%人類生態学者@神戸大学 (@MinatoNakazawa) April 12, 2020
今週の連載更新。Apple/Google方式の詳細からARでのソーシャルディスタンス把握まで、「スマホの技術と感染拡大阻止」についてまとめてみました。:AppleとGoogleが手を組んだ。感染拡大阻止に「スマホ技術」ができること【西田宗千佳のイマトミライ】-Impress Watch https://t.co/QZnOF46uCA

— Munechika Nishida (@mnishi41) April 12, 2020