• Microsoft와 Mojang은 코로나 바이러스 잠금으로 인해 현재 수업을받지 못한 많은 학교 아이들을 즐겁게 교육하기 위해 몇 가지 무료 Minecraft Education 강의를 발표했습니다.
• "코로나 바이러스 관련 학교 폐쇄로 인해 집에 수억 명의 아이들이있어 더 많은 아이들이 친구들과 시간을 보내고 온라인 세계를 탐험하고 놀이를 통해 배우기 위해 온라인으로 가고 있습니다.
• 새로운 교육 콘텐츠를 통해 플레이어는"NASA와의 파트너십을 통해 국제 우주 정거장을 탐험하고, 로봇으로 코딩하는 법을 배우고, 유명한 워싱턴 DC 랜드 마크를 방문하고, 3D 프랙탈을 찾아서 구축하며, 해양 생물 학자가 되는 것이 무엇인지 배울 수 있습니다
• 스펜서는 "우리는 게임이 사람들을 연결하고 이러한 고립되고 스트레스가 많은 시간에 기쁨을 제공하기 위해 지금 당장 수행하고있는 중요한 역할을 이해하고 있으며, 팀은 우리가 플레이어를 위해 함께 할 수 있도록 부지런히 노력하고 있습니다.
Minecraft Now Offering Free Educational Tools To Keep Kids Engaged During Social Distancing
[www.gamespot.com]
Xbox curates free educational marketplace in Minecraft
[www.gamesindustry.biz]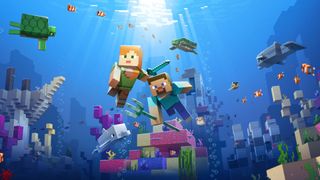 Microsoft and Mojang release free Minecraft Education pack to help kids stuck in quarantine
[www.gamesradar.com]
Minecraft Education: Helping kids connect during COVID-19 pandemic
[www.polygon.com]
Microsoft monitoring performance and usage of Xbox Live due to "unprecedented demand"
[www.vg247.com]
This is awesome news. As a former educator, Minecraft's educational tools were incredibly valuable and useful in making classroom learning fun. ?https://t.co/IhXPxdriqp

— Adahop? (@AdahopAlex) March 24, 2020
@CPHSGophers @CPElem Microsoft is offering an awesome, free educational product from a platform that many of our students know and love. My nephew is using it to tour Washington D.C. since his trip got canceled next week. Stay safe! https://t.co/X9Dtg41scI

— Luke R. McLaughlin (@LukeRMcLaughlin) March 24, 2020