• 또 다른 19 %는 그들이 하는 일 중 일부가 추적되고 있다고 생각합니다.
• 그리고 미국인의 56 %는 정부가 적어도 누구와 대화하고 있는지, 어디에서든지 같은 일부 활동을 추적한다고 생각합니다.
• 81 %의 미국인들은 그들에 대한 기업의 데이터 수집의 잠재적 위험이 이익을 상회하고 있다고 생각하고 있으며, 66 %는 그들에 대한 정부의 데이터 수집에 대해 같은 말을 합니다.
• 그러나 데이터 (및 Facebook 및 Google의 주가)는 소비자가 Big Tech의 데이터 수집으로 인해 도움을 받는 것보다 더 많은 피해를 받고 있다고 느끼지만 이러한 서비스 사용을 중단할 의사가 없거나 중단할 수 없음을 나타냅니다.
• "그들은 정보가 예전만큼 안전하지 않다고 두려워하며 정보에 대한 데이터가 어떻게 사용되는지 걱정합니다.
Fears grow on digital surveillance: US survey
[www.bssnews.net]
Majority of Americans know they're under constant surveillance, don't trust the companies doing it, and feel helpless to stop it
[boingboing.net]
Americans and Privacy: Concerned, Confused and Feeling Lack of Control Over Their Personal Information
[www.pewresearch.org]
More Americans now realize the threat
[www.fastcompany.com]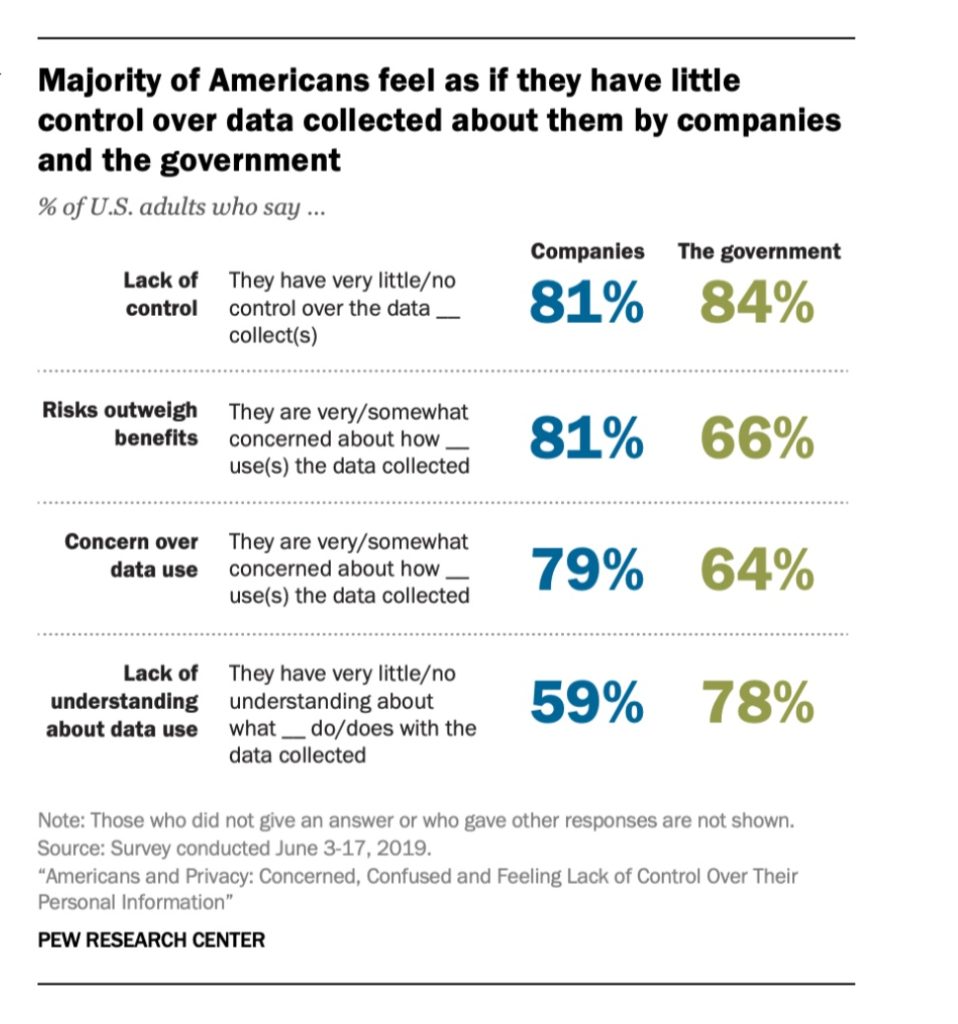 Shifting sands in public opinion about personal data?
[memex.naughtons.org]
How many folks who feel confused, distrustful & out of control are still buying Alexas, Ring Doorbells, Nest systems etc.? transparency & education needed to allow informed decisions but more importantly, baseline protective federal privacy legislation https://t.co/8446YMdsBP

— Jolynn Dellinger (@MindingPrivacy) November 17, 2019
Black adults (20%) are roughly three times as likely as their Hispanic (7%) or white counterparts (6%) to say someone has taken over their social media account in the past year. https://t.co/T78l1M8P4i

— Pew Research Center (@pewresearch) November 18, 2019
NEW: Six-in-ten U.S. adults don't think it's possible to go through daily life without having data collected about them by companies or the government. https://t.co/T78l1M8P4i

— Pew Research Center (@pewresearch) November 15, 2019
49% of Americans say it is unacceptable for smart speaker makers to sharing users' audio recordings with law enforcement to help with criminal investigations; 25% think that is acceptable. Rest are not sure in NEW @pewinternet survey https://t.co/1psH84PEJ4

— Lee Rainie (@lrainie) November 15, 2019